Rich's Quick Bio
Rich's Quick Bio
*Playing guitar for over 50 years
*Toured with "Dick Clark's Good Old Rock and Roll Show" performing with Bo Diddley, Chuck Berry, Little Anthony and many other great, old time rock and rollers.
*Authored three guitar instruction books for a major publisher
*Video taped over 800 instructional videos
*Rich;s Jazz Quartet has opened for Bill Cosby, Golden Boys of Bandstand, Kenny G,
George Benson, Richard Elliot and many more smooth jazz artist.
*Performed at numerous jazz festivals, studio sessions, wine festivals, special events, night clubs and casinos. Recorded 10 CDs under his name.
*Founder of "Guitar College" and "99CentGuitarLessons.com"
*Endorsed by Heritage, Eastman and Hofner Guitars, Quilter Amplifiers and D'Addidaro strings
*
Married 48 years to Gail, with four kids, six grandchildren, and 2 great grand children.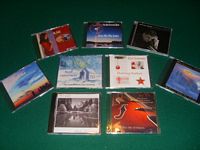 NEED HELP? CAN'T FIND IT? JUST ASK!
Thanks to Our Sponsors


CONNECT WITH US
We accept all Major Credit Cards, Bankcards and Paypal!

Contact Info