2024 YOSEMITE GUITAR & BASS
JAZZ WORKSHOP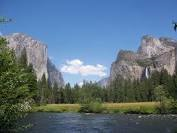 LIVE THE DREAM, 5 DAYS IN THE MOUNTAINS
NO DISTRACTIONS, JUST GUITAR & BASS
Sun- Fri, June 9- June 14, 2024
ECCO Conference Center, Oakhurst, CA
AFFORDABLE ALL INCLUSIVE PRICING!!!
Includes all meals, classes, workshops & lodging for one low price.
SPACE IS LIMITED!!! REGISTER NOW
$1599.00 Semi Private 2 Level Shared rooms
$2399.00 Private couples room (no classes for spouse)
$1299 RV onsite w/ hookups or $1199.00 offsite lodging
(All include all meals, classes and jams)
CLICK HERE FOR ROOM AND MORE DETAILS

Featuring Guitar College's
RICH SEVERSON and MIKE DANA
Plus Bass Instructor TODD JOHNSON
And 2024 Special Guest Instructor TBA

Past guest instructors have included Bruce, Forman, Pat Kelley, Tim May, Mitch Holder, Barry Zweig, Frank Potenza, Mike Dana, Robert Conti, John Stowell, Brad Rabuchin, Steve Trovato , Eschete & David Becker
Class discussions include theory, technique, comping, soloing, single note & chord melody, improv, reharmonization, bebop & jazz stylings, octave playing, chord substitutions, soloing over changes & more.
The level of the workshop classes will be intermediate thru advanced.
Guitarists will be split into 3 groups, with some classes being level specific.
PDFs of the tunes available to download prior to the workshop.

SPACE IS LIMITED!!! REGISTER NOW
$200.00 deposit will reserve your spot now!
$200.00 holds your spot until 3/1/24 when remaining balance is due.
For complete workshop details, sample schedule, location, travel, room descriptions, payments, etc. CLICK HERE
RESERVATIONS PREREQUISITES INSTRUCTORS
Videos